7 Tips for Choosing a Bag That's Beautiful and Practical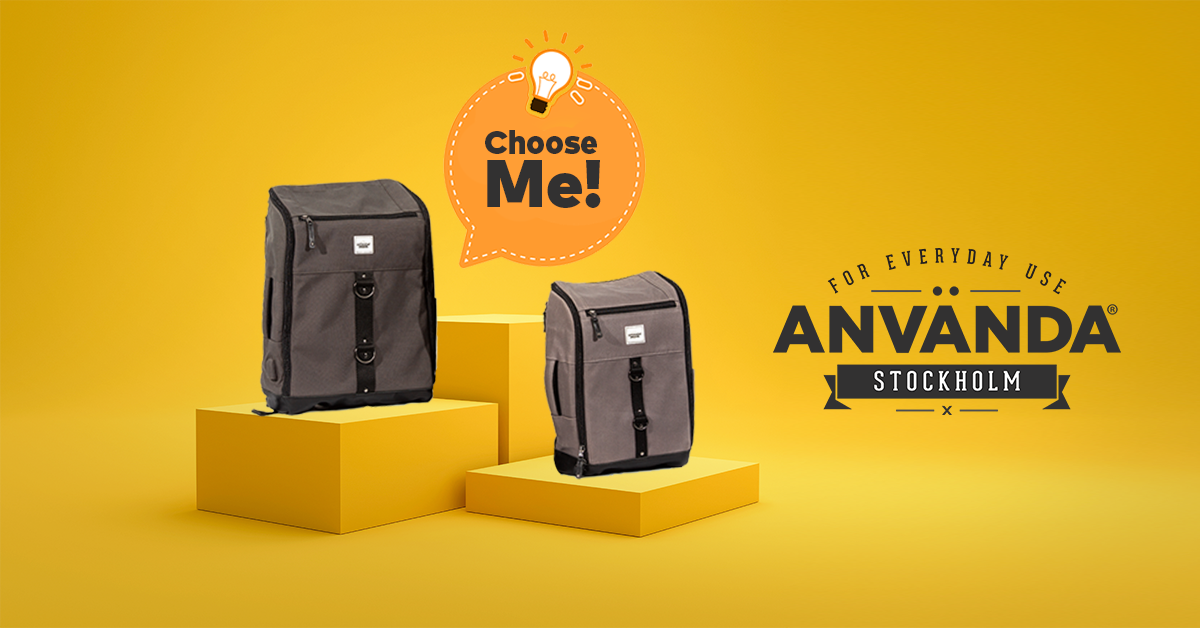 We all have some type of weakness. Ninja Turtles would do anything for pizza, Donald Trump love(d) Twitter, Minions would die for a Papoy and Bananas, 007 goes nuts for girls and cars, and we at Anvanda have a big obsession with bags. And who can blame us, they are awesome! If you are anything like us, choosing a bag that is practical and looks cool is a long and serious process.
Let us help you! We know everything there's to know about backpacks because we have spent months working with our fancy Swedish designers, colleagues whose names we don't even know how to pronounce to bring you not one, but TWO awesome Great Faucking Bags. We have also had a lot of trials and errors with features so now we've got the perfect combo. Namely, the most important feature is right there - they carry your shit. Buying a perfect bag will affect your style and the way people see you. If you want to turn some heads (like the Exorcist!), having Anvanda A Great Faucking Bag is the way to go!
1. When Choosing a Bag Think if It Will Show off Your True Colors
The important part of buying a backpack guide are colors. Even though black never goes out of style there are other colors you can go for (get all the bags in all the colors available for all we care - no really, go for it, our wallets will sing with joy)! However, your preference of color can have a significant impact on the way others perceive you.
If you are attention-seeking, powerful, and confident just like Iron Man, you should go for a red bag. All eyes will be on you and your kick-ass backpack. Blue is traditionally preferred by men but we are here to break the gender roles and we say fauk that. Get a blue backpack and stare at it, because that can lower the body temperature (this is what science says). Next, wanna make people be green with envy? Make them lose it like the Hulk when they see you wearing a b*chin' backpack? You know what color will do that - GREEN!
Luckily, our Anvanda designers know a thing or two about colors and they made sure we have plenty of them on our Great Faucking Bags! From solid colors to printed designs, you can get whichever you want. And there is a color no matter what kind of style you have - hipsters can enjoy quirky, vintage-like designs that set them apart from the rest of the mortals, while modern and hip folks can grab black, orange, or even blue bags.
2. Pick the Materials That Will Match Your Pretty Fly Style
When you are done reading about what colors mean (cause let's face it, we all want to know what color makes us look the coolest) it is time to talk about the materials. This is also something you will think about when figuring out how to choose the right backpack.
What kind of material would you like to be pressed against your skin? Some prefer leather because it is smooth and sexy 🤣 You deserve the best that's why you should grab a leather bag and enjoy it. Anvanda A Great F*cking Bags are lined with full-grain Italian leather. After all, two bag-shaped cows made the ultimate sacrifice so that you could carry your schit while looking dope! Appreciate it!
On the other hand, if you are very passionate about animals, there is a vegan leather bag option as well! Don't send PETA to hunt us down, when you can get the Anvanda made out of the best non-leather materials. See, we care about all of your needs! So, choose the material carefully because it will be touching you often.
3. Size Is What Really Matters When Choosing the Right Backpack
"Go big or go home" is not a solution for everybody! After all, there might be some of us that like their things on the smaller side 😉 If you don't want to pull a muscle or hurt your back, the smaller the better (#AlthoughThatsProbablyNOTWhatSheSaid).
Don't worry, we have a solution for you whether you like bigger or smaller things in life (bags, we are talking about bags 😉). Anvandas come in two sizes - whether it's a regular Anvanda, or Anvanda V2, you have them in Normal and Large.
Those techies looking for the right Anvanda bag should opt for the larger one. Because not only can it fit 17" toys, it also comes with a USB connection. Smaller one might be more practical and it can carry 13" laptops but it is without a USB connection.  Ultimately - only you know what size works best.
4. Comfort Should Play a Major Role in Choosing a Backpack
Some would say your backpack is your best friend (and yes we know you have other friends, you are a cool person), so it is important to feel comfortable around them, right? If you have something soft like a cotton ball wrapped around you, carrying your shit all day long won't feel tiresome, it will feel like your bag is giving you a giant hug (as any true friend would).
This is why people love our Anvandas. It has straps that are padded with an airflow system, that will prevent you from sweating in crucial situations. Like when a girl asks for your number or when you accidentally start walking too fast! This system is called EZ carry, because yes you guessed it - it is really easy to carry (we are not that original with names, but who cares, we make Great Fu*king Bags)!
All in all, our cool straps might make you feel good about being tied up.
5. The Bag Should Protect Your Stuff Like a Superhero
Realistically speaking, your bag won't jump and scream "I'm Batman" at robbers while they are trying to rob you. But also nowadays thieves are less likely to touch you when they are robbing you so there's that. However, they have some other non-magic ways to take your money. Yes, we are talking about virtual theft.
And yes we already live in the Matrix so everything around us is all virtual! However, some clever vigilantes found a way to bend the rules of the virtual world and now they can rob you and you won't even notice it. Safety good! Theft bad! Keep that in mind when you are figuring out how to pick a backpack!
This is where having a Superhero kickass backpack will be a great solution! Our Anvandas come with an RFID-protected pocket where you can keep your phone. And if you get our RFID-protected wallet as well, you will be as safe as if a Chihuahua on steroids was watching over you.
6. Make Sure It Comes With Its Own Raincoat
Mary Poppins is not the only smart person around here for wearing an umbrella everywhere she goes! Our Anvandas come with rain protection as well (although we'll admit it - our raincoat doesn't help you fly like Poppins, however, it does make you look fly and keeps your schit dry ☔)! #WeLovetoRhyme
great tips for cleaning a bag
because it won't be stained with water. Raincoat will keep your backpack dry and you can keep on dancing through the storm pretending to be in a great movie montage.
7. It Should Have as Many Pockets as You Need, and More
When you are looking for a bag, you are probably in need of an accessory that will carry all of your junk, right? That's the main function of the backpack. Luckily, Anvandas can do just that, and they come with so many different pockets in case you want to keep your schit separated from one another.
Since our bag has a sturdy back, there's a sleeve on the side. It will protect your precious toys from sudden hits (however we strongly advise you to avoid swinging bats and passionate black Friday shoppers, they can be savage).
Also, there's a magnetic top pocket for all the schit that you need to find without rummaging through your backpack. And keep in mind that there might be one or two hidden pockets, you will discover when you get to know your Anvanda better. There is even a magnetic water bottle pocket where you can keep all of your alcohol (because it is important to drink fluids, and alcohol is a fluid, right?).
Plus, our Anvanda comes with a silver lining - the literal one! It is made out of silver lining antibacterial material! This will help you keep the smelly and not so smelly crap you carry around divided. Meaning you can carry gym socks and a bagel (we all need a good snack after the workout) and your clothes won't smell like pastry and your food won't smell like the locker room!
There are so many pockets you can play hide and seek with your junk.
Anvanda a Great F*cking Bag Is the Solution for All of Your Troubles 
Well, there it is, all the wise and profound tips for choosing a bag that is not only carrying schit but also makes you look cool while doing it. As you can tell, Anvandas are the perfect solution for all of your troubles. No matter how weird your belongings are, or how much of them you have, when you have Anvanda there will be a way to take them all with you. That's the main purpose of the bag - to carry all the crap you have, right? We aced that one!
Our Anvandas make people go a bit crazy because they are affordable, they come in stunning designs, and GUESS WHAT -  they carry schit safely! When you finally set your mind to one design (or five, an Anvanda for every occasion), just visit our fancy online shop and get your Anvanda bag.
---