What Makes Anvandas the Best Backpacks for Work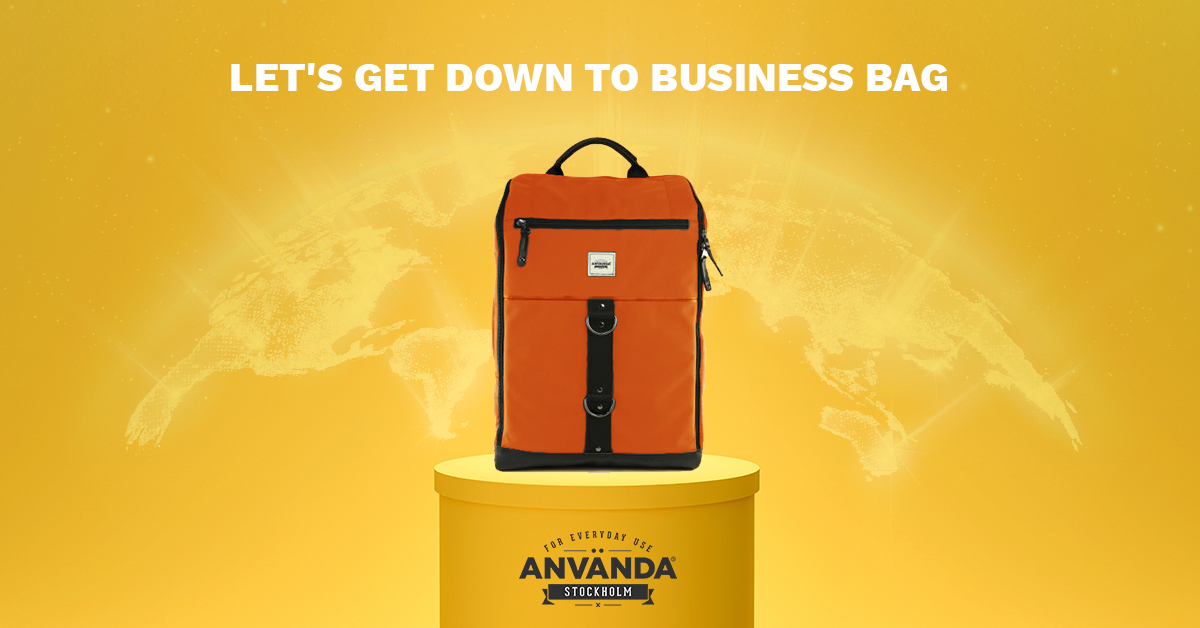 Some professionals like to carry briefcases, and they're stuck in yesteryear, so ignore them. If you're a more laid back, cool and practical person that likes to take all types of schit with you, consider getting one of the best backpacks for work. Anvanda Great Faucking Bag is the answer you are looking for! It's the best work backpack there is, and can fit half of your workspace. Unless you are working in the Zoo - you can't smuggle an elephant out! Maybe a baby lion, or a kangaroo. They'd appreciate a nice pouch ;).  
Grab all of your work essentials like sandwiches, a Nintendo Switch, a bottle of alcohol (for disinfection, or internal throat bacterial cleansing), some papers bearing a CONFIDENTIAL stamp (looks very 007), and head to the office equipped to tackle any tasks thrown at you.    
Hold It or Carry It on Your Back - It's up to You  
Let's be honest, no one told you life is going to be this way - your job is a joke, you are broke, and your life is DOA (enjoy singing the Friends theme song for the rest of the day)! That's how you will find yourself overthinking every single decision you make, and you might even start to wonder Is it unprofessional to wear a backpack to work? The simple answer would be - fauk no, especially if you carry a slick and insanely cool Anvanda. 
Nowadays workplaces are often where you drop your schit and set up your office - park, beach, terrace, living room, doesn't matter. Imagine walking to the park all prim and proper and thumping your fancy briefcase to the floor. It's all wrong and you risk mass hysteria looking like a Unabomber. It's just not the same as casually dropping a backpack and unwinding a bit before you start your laid back nomadic day. 
 No matter if you are just figuring out how the corporate world works (a little secret - nobody really knows) or you are faking it until you make it, you want to look like you belong. So instead of carrying a briefcase, Anvanda is still a perfect option for ambitious professionals. Not only that it looks great, but you can also hold it by the handle on its side like a briefcase or carry it on your back like a laptop backpack. No need to choose between looks, you can have it all with Anvanda. 
Don't be a Douche, Use a Backpack Handle
Quick reminder, if you're using public transport, don't be that jerk that carries a backpack on their back because you might face bash other passengers (nobody deserves to get a black eye while commuting to work)! Instead, use the neat Anvanda handle feature. You'll look professionally badass and might save a few eyes and ribs along the way. On the plus side, you will make it harder for the pickpockets.  
via GIPHY

Also, don't worry nobody will think you are an overgrown kid when you are carrying our Anvanda. You can get it in a variety of great designs that can showcase how grown-up you are! Go with a simple black one (because we all need a little black bag in our lives), and people will think you might be very professional (even if you are carrying a toy of baby Groot in it, but nobody needs to know that). Or say feck you world and get a colorful one that will up your cool factor by exactly 110%. It's scientifically proven, trust us. 

Our Great Faucking Bag is stylish (it's like Rihanna of bags - it's that good), and it can carry and protect schit, so what more do you want? Just look at these smug mofos. Very on point.
There Is a Safe Place for Your Laptop
Yes, yes, we are well aware that modern technology is a part of almost every profession there is. We all carry schit like touchpads, smartphones, tablets, fablets, and laptops. How would the government spy on us if we didn't?! Putting vaccine chips to shame, riiiiight. 
If you are some big hotshot that carries a tech toy that costs more than a car, don't worry, it will have a special spot in Anvanda because there is a laptop sleeve in each bag! If you have a big toy 😉 grab an Anvanda V2 Large Great Faucking Bag because it can fit up to 17" inside! :That's what she said: 
When you get Anvanda, you can carry all the useless crap you most definitely need, like a mini desk vacuum, electric pencil sharpener, a remote control car, a solar-powered rainbow maker, or even a portable speaker! All you have to do is figure out the best way to pack an Anvanda V2 IT Bag, and you are good to go. With all the schit you can carry, you can make even a park feel like an office. Also, there is a USB port, so you can charge all of your fancy tech. Just whip it out and plug it in (pun intended). You'll have to get your own charger though.
Imagine having to explain to your boss how you've been mugged without actually being mugged! They would think you're lying for sure. So not only will you be left broke but jobless as well (wow, that escalated quickly)! To avoid this very (or not so) possible chain of events, make sure your schit is protected from virtual crime. Unfortunately, it's just called virtual but there's nothing virtual about it. They don't physically take out your cash but they "swipe" your money away through a process called "skimming". The end result is the same. 
It's a very real threat in this day and age. Luckily our Anvanda knows how criminal minds work, and we made sure finances are protected. When you go out into a big bad world, put your phone, IDs, credit cards and passport in an RFID protected pocket, and nobody will be able to hack their way into your life. Also, if you want to be extra safe, get our Anvanda wallet and protect all your cards (we know you have them, after all, you are making all that green while working hard and hardly working).
You Can Even Bring Your Smelly Gym Schit With You
Let's say you are one of those modern superhumans that not only work but also workout - would you really go to the office then go home to pick up your gym clothes? Nobody is that dedicated! Luckily, Anvandas are here to save you from running around the city all day long - you'll run in the gym, that's why you pay for it!
There's a silver lining, though. No, literally, our bag has a special antibacterial silver lining, so all of your smelly socks, towels, and even sweaty motivation T Shirts can fit in it without stinking up the rest of the stuff. In Anvandas you can carry important reports for your boss as well as gym shorts. Your boss will never know you have been rubbing your sweaty junk on his essential documents hehehe :D. 
Dancing in the Rain Without Soaking Your Goodies 
Our Anvanda A Great Faucking Bag designers love you 3000 (:Avengers assemble:). And that's why we made a backpack you can carry no matter if you are channeling Gene Kelly while dancing in the rain or you are soaking up the sunshine like a true sunflower you are. This is probably one of the best travel bags out there. 
We thought about everything when creating our Anvanda A Great Faucking Bag. That's why you won't have to explain to your boss why reports look like you just fished them out of the river or why you are dripping on their expensive office floors. 😬 
Anvanda Is One of the Best Backpacks for Work 
...Because It Carries ALL the Schit You Need. And what you don't need. Smaller Anvanda can fit most 15" laptops, while the large one can even fit 17" laptops. No matter if you are working 9 to 5 or have a crazy schedule that surprises you every week, having a great bag that can carry all the schit you need will make your workweek less stressful. You can also stuff a variety of gadgets, pull out a pet rabbit, a stress ball, and of course a flask with "water" (what a funny way to spell Vodka😉). Just don't forget to hydrate. 
Top Laptop Bag Features 
Our bag has many awesome features you will soon become addicted to. From countless pockets to an airflow system that stops you from sweating, it's perfect for professionals! Nothing says Eeeew like sweaty armpits. So - don't wait too long to get your Anvanda at a very special price. This bag will not only carry all of your junk, but it will also make you look great while doing it, and you won't have to spend a lot of money on it if you pre-order it through our crowdfunding campaign. 
Check out our Indiegogo page and get your Anvanda V2 bag ➡️ https://link.anvanda.com/3M6J
*We had to censor our name.
---