Anvanda's Backpack With Laptop Sleeve Is The Best F*cking Option For Digital Nomads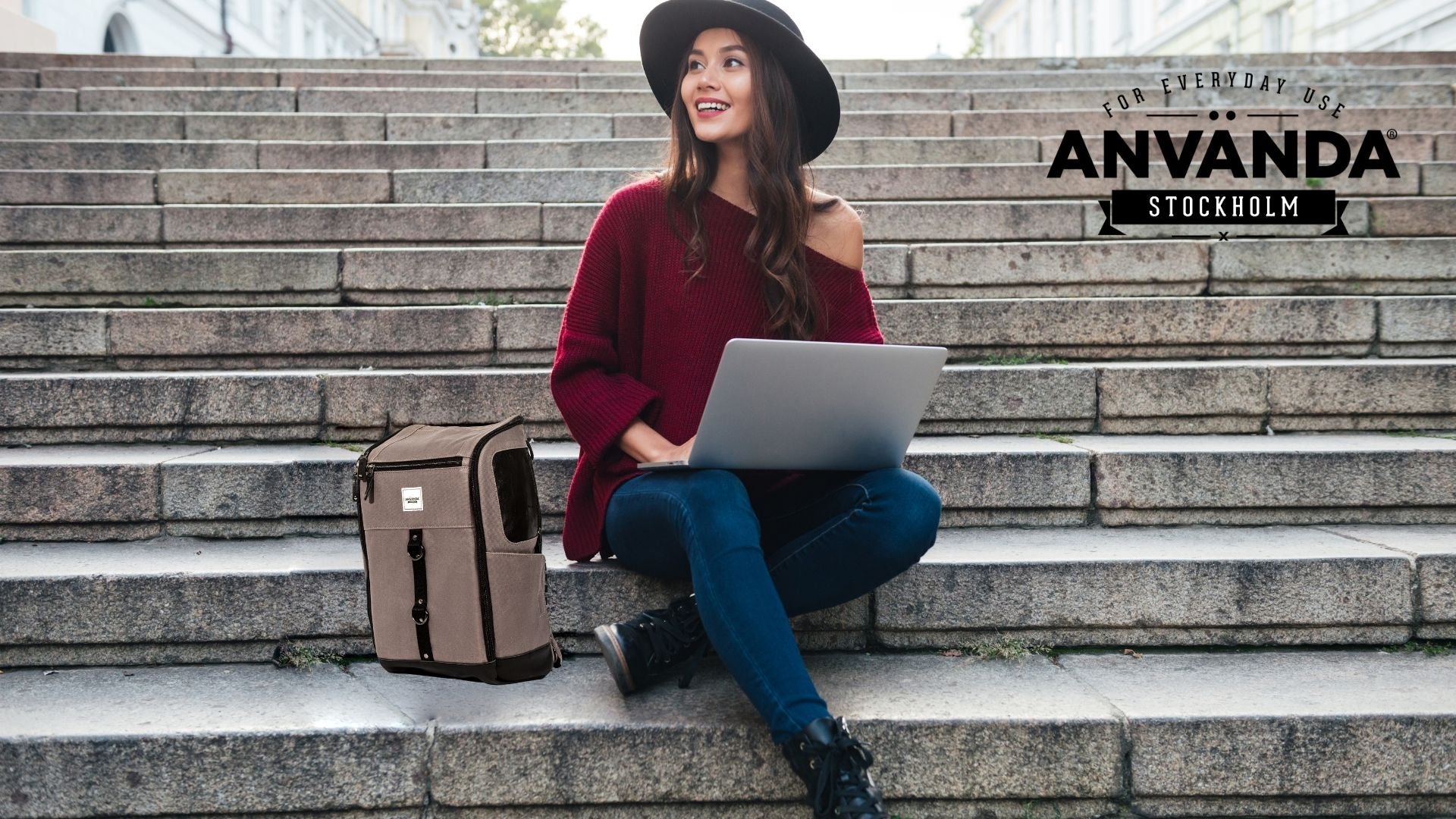 A bag with a laptop sleeve? Groundbreaking. A Great F*cking Bag with more pockets, changeable straps, a charging port, and RFID protection? Phenomenal. Learn why choosing Anvanda's backpack with a laptop sleeve will be the best investment you'll ever make.
Your Wet Dreams of a Backpack With a Laptop Sleeve Have Come True
Imagine this - a backpack where you can place a laptop and then fit more stuff beside it. Does it sound impossible? Well, it's not. Anvanda's Great F*cking Bag can handle a lot of sh*t and still look classy, just like Meghan Markle.
What you carry in your backpack is up to you, but if you're a digital nomad, we know you'll likely pack work-related stuff. When we made it, we carefully considered every demographic but understood that work and life often intertwine, so the bag reflects that combo. Party in the front, business in the back (and inside).
The bag is suitable for travel and has nooks and crannies for documents, cash, underwear, socks, and a sandwich because you have to stay nourished while crossing miles. The layering that gets rid of bad smells will ensure your sandwich doesn't smell like socks or that your socks don't smell like cheese.
Whatever you use it for, it'll be a perfect choice. And you can even get it in camo and pretend you're a mysterious adventurer like the dudes from Uncharted.
This Bag's Laptop Sleeve Can Take Inches - Laptops From 13 to 17 Inches, to Be Precise
No matter if you have an iPad or a 13-inch, 15-inch, or 17-inch laptop, this bag can take it. It's strong and takes punches like Rocky because it has protective layers, a rain cover, and is made of vegan leather. Sturdy, strong, and eco-friendly, the Great F*cking Bag is a thrill to carry on one's back.
You can secure the laptop and carry it wherever necessary. Pack the charger, too, and remember the immortal words of many legends - phone, wallet, keys. Before you step out, choose which way to carry the bag and start the day knowing all your sh*t is safe and sound in this beautiful f*cking thing.
The Anvanda Great F*cking Bag Was Made to Pleasure Digital Nomads and Those Who Frequently Feel That Way
Okay, so pleasing a digital nomad may not require too much work, but it probably depends on the day of the week. While we know having enough room for a laptop and more sh*t can be enough, we thought, "No, no. This has to be more than just a sack for portable computers. It has to be a masterpiece."
It Has a Charging Port for All Those Perpetually Empty Phone Batteries
Besides all the pockets and the smell-repelling layer, what else can we say about this bag's superiority? Oh, right, you can charge your sh*t on it as if it were a moving power bank.
You'll be the talk of the town when the other digital nomads spot you charging a phone with your bag. The context of the talk may differ from what we imagine, but one can only dream of being so legendary.
The charging port has a USB plug-in and works wherever you take it. Damn, being a digital nomad suddenly seems more attractive. And because the bag always does its job perfectly, at least one of you will be productive. You can also learn a thing or two from this f*cking backpack.
Frequent Travelers and Nomads Can Pack Their Sh*t in the RFID Protected Pockets
Yeah, the bag has pockets; we know you get it, but this has to be mentioned because it's super special. Did you know there are digital pickpockets now? No? Well, what did we expect out of the hyperfast rise of technology than to have it completely ruin our lives at some point?
Sorry, sh*t got a little Philip K. Dick there; existential crises are a part of anyone's life at this point. We really wanted to say that people called skimmers steal money by scanning RFID electric waves from our credit card chips. And they don't even have to touch you, buy you a drink, or call you 'honey' to do it.
The Anvanda Great F*cking Bag has RFID-protected pockets, which block the electric waves from RFID scanners from reaching the cards and data in them. Your valuable possessions will have a legit force field around them. Isn't that cool?
(That's an actual depiction of a guy carrying an Anvanda backpack)
Be Stylish While Working From Starbucks, You Millennial Cliche, You
You can look cute with the Anvanda Great F*cking Bag, but there's a possibility of looking even cuter with Another Great F*cking Bag. It's so f*cking stylish that no one will care what you do in Starbucks all day. They'll most likely care about where you got the backpack and how amazing it looks.
Being overshadowed by a f*cking backpack is sad and not precisely what we wanted. It felt like we'd created a monster when we made it, like Frankenstein, but for bags. Anyway, each version of the Great F*cking Bag is gorgeous, and you'll likely have a really tough time figuring out which one to buy.
The Great F*cking Bag Needs No Further Explanation. It's F*cking Great.
Whether you need this bag for work, travel, leisure, or just to look f*cking cool, it'll serve its purpose. It'll be so good that other bags will no longer exist for you, and you'll keep it at your side like Gollum kept that ring. It is your precious, and you do deserve something nice for yourself.
If you check out our store, you'll see the wonders of Anvanda. As a digital nomad or frequent traveler, you may find other, handy stuff to trade money for and get durable, high-quality leather products in return that'll last you a lifetime.
---