Best Way to Use Your Anvanda as a Camera Bag!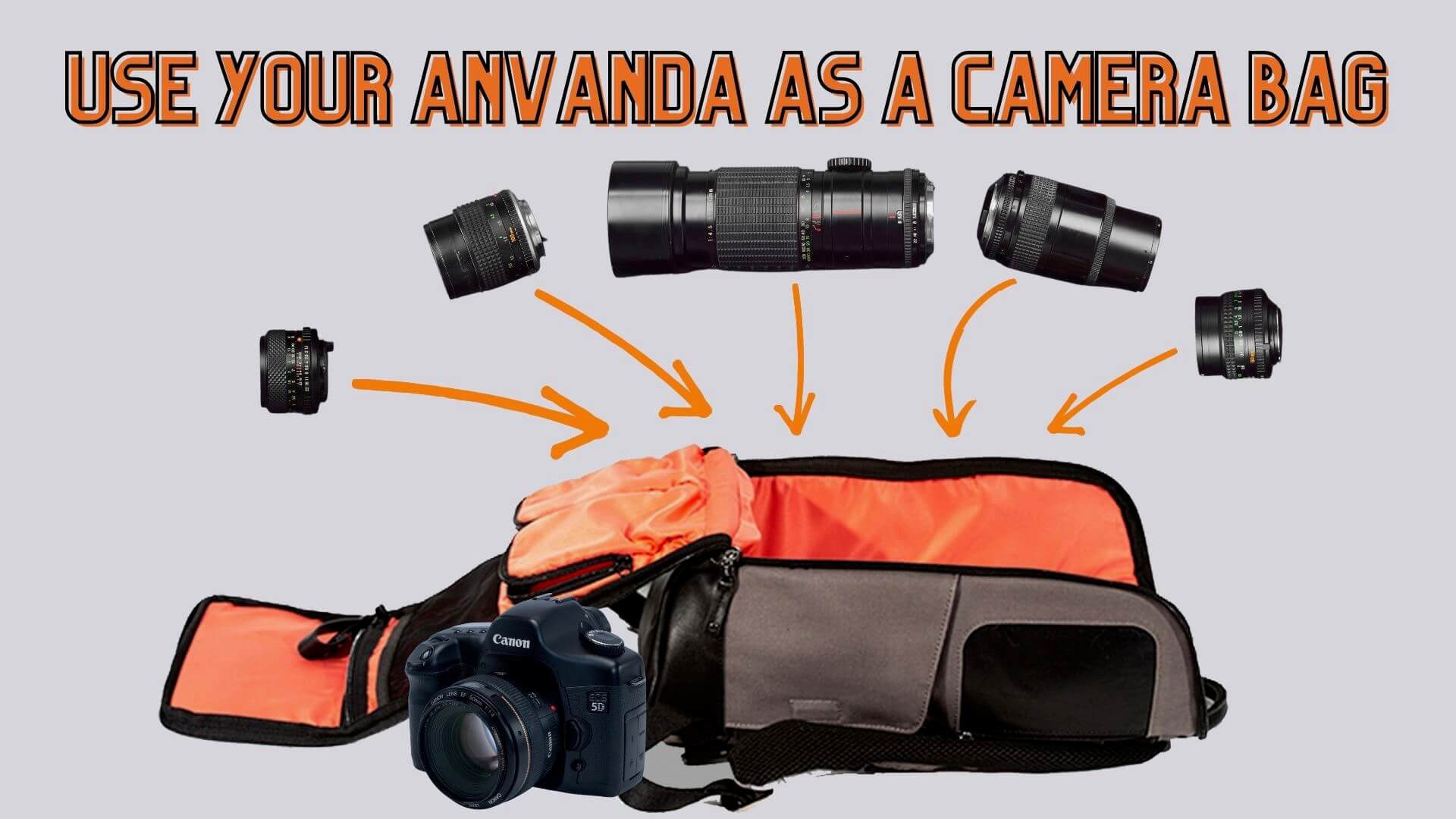 You know what they say - you haven't been on vacation if it's not on social media. And how to catch those precious moments without a camera? Sure, you can snap a photo or two with your phone, but it's not the same. That's why you'll need a camera bag to keep your Leica, additional equipment, and other hipster junk you like to show off wherever you go.
Let us get one thing straight - Anvanda is a Great F*cking Bag, no matter how you look at it. You can grab it to go fishing, and all your equipment, except the pole, will fit right in. It will also keep your stuff safe with the reflective rain cover we've attached to the bottom. But how will anyone believe you caught a large salmon all by yourself if you haven't taken a photo of it? Don't worry, Anvanda lets you carry all of your schite in it, and you can also add a camera insert to protect your camera.
We Have an Insert That Turns Any Anvanda Into a Camera Bag, Just Like Magic
Whether you want to wear the camera insert as a shoulder bag or you want to pack it inside your stylish Anvanda backpack, it can swing both ways 😉 Each of these inserts can hold a camera, one lens, and additional gear like a battery and SD cards (or another lens). And you can then freely fit it in (hee, hee) inside the best backpack for traveling. But even if you want to simply toss it over your shoulder and carry it that way, you should know that the bag is sturdy enough to be carried without the larger bag, and it's also waterproof.
The camera insert can fit most cameras, including compacts, DSLRs, and mirrorless cameras, so you'll be able to carry your gear wherever you go and show your artistic skills. Like with all Anvanda products, we've made sure to include a lot of pockets, so the camera insert bag has 7 of them. The padding is interchangeable, and the bottom is thicc, just like any bottom should be.
But What if I Want to Carry Loads of Schite?
I'm just taking the small bag with me, and I'll be on my way! Said no traveler EVER. It's true that when we want to hike, bike, or travel the world, we aren't able to pull it off without carrying half of our possessions with us. So, what to do in that case? It's simple, buy an Anvanda! Our bags come in two sizes and can be worn in multiple ways. The long strap and hook system make it easy for even the clumsiest among us to install them. You can then wear it as a shoulder or messenger bag, an ultra-sassy backpack, or as a handbag in two positions.
Each of Our Bags Is Deliciously Sassy
Our bags are exquisitely designed and come with awesome features. Here's what you can expect from each Anvanda delight:
Each Anvanda is a water-resistant backpack. How is this possible, you may ask? It's with that reflective rain cover that's located at the bottom.
We didn't cut down on quality materials, so each bag has a SanitizeMi® antibacterial silver lining It means you can easily throw your sweaty shirt inside after a long day of photographing nature, and no one will ever notice the smell.
To allow you to live a tangle-free life while you charge your electronic schite, we've added a USB port to each bag. To keep you safe from cable knots at all times.
We've also added a handy laptop sleeve. Here, you can store your laptop, your favorite books, or a bottle of alcohol (for disinfecting, of course).
We've made sure to add as many pockets as humanely possible and to add some high-quality YKK zippers so your schite wouldn't get lost. Also, we make EVERYTHING from top-notch materials because we hate sh*tty quality.
There's also a designated section in the Anvanda bag for your water bottle or sunscreen, so besides traveling and commuting, you can also use it for the beach. You can also use that pocket to hide your ehm, toy… we don't judge.
An Anvanda Won't Let the Pickpockets Have Their Way
Nowadays, it's not only important to clutch your bag close to you to protect your camera, your money, or any other valuables. Oh no, the scammers have upgraded their ways. It's enough to pass you by and skim some (or all) of your digital money without you suspecting a thing… And that's where the ever-sexy Anvanda leather wallet or the simple specialized pocket in each Anvanda bag steps in to save your arse. We've made both the wallet and the pocket RFID-protected, so you won't give any money for free and unwillingly.
Get an Anvanda and Go See the World Through the Lens
No matter what color you choose to grab from our shop, it will be your faithful companion wherever you go. It will carry all your schite, keep you company, and protect the camera and other junk you drag around from rain. Our shop also has other awesome deals for you, so you can go and take a look at all the Anvanda Great F*cking Bag bundles to save up on the prices. And while you're at it, show us some love and help get our newborn Anvanda to life through our Kickstarter page.
Kickstarter link -
Använda V2 | Another Great F*cking Bag
---