What Makes Anvanda The Best Small Backpack for Women?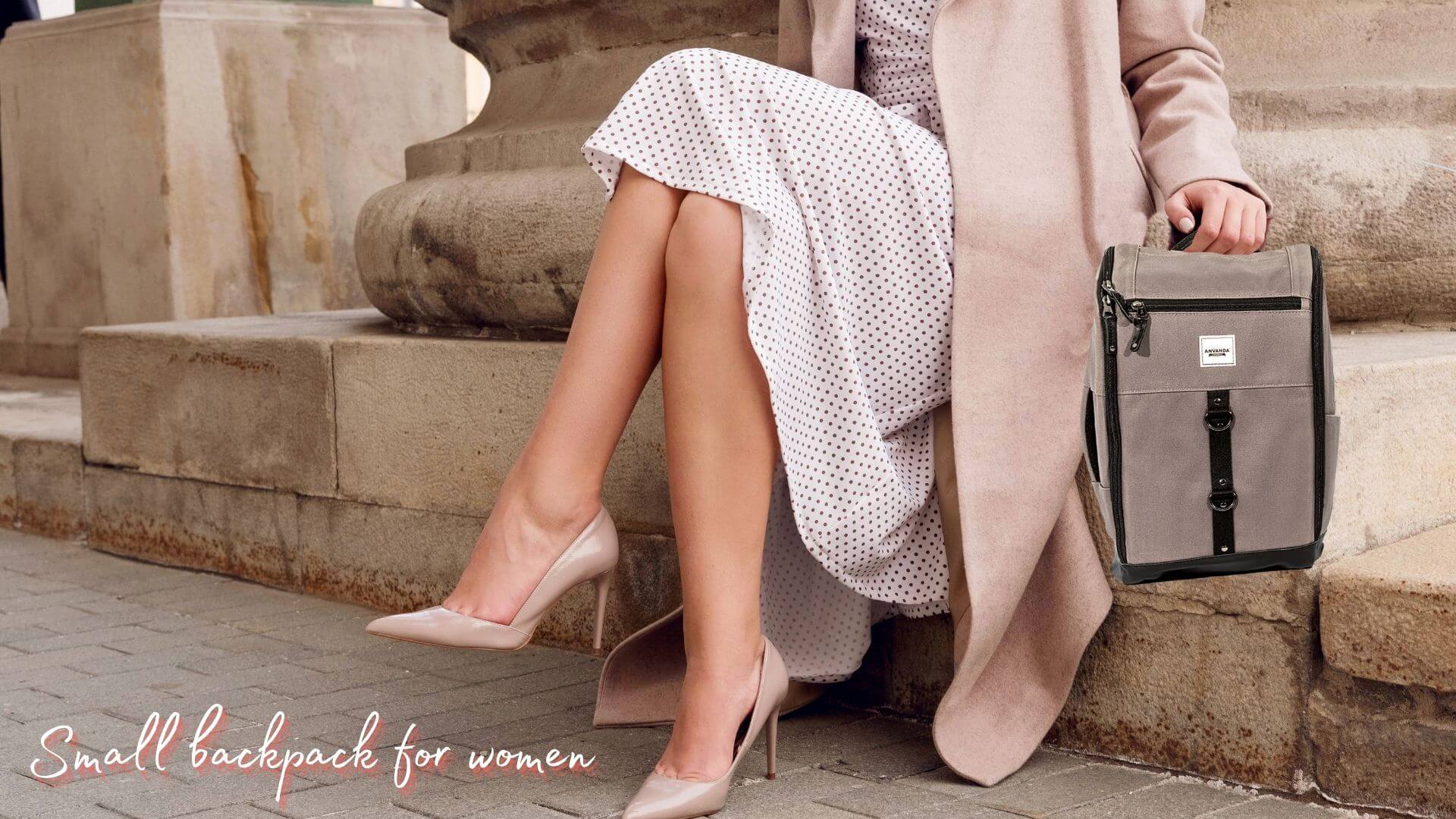 The best things come in small packages (unless we are talking about, well, packages 😏), and often this saying can apply to women's bags. A small backpack for women is an indispensable part of every girl's closet. If you're on the market for a new one, don't look further than our mini, but still a great f*cking bag. If you want to feel sexy and cool while hiking, walking, working, or simply exiting - this backpack can make it happen.
Sporty, Elegant, Casual, Bohemian, Grunge - Our Anvanda Mini Fits All Kinds of Styles
When your goal is to look stylish wherever you go, Anvanda Mini, a Great F*cking Bag is the way to go. Not only does this backpack look stunning all by itself - it will complement whichever look you're going for. Everyone from metalheads to Kim Kardashian look-alikes can fit this backpack into their styles - and that's the power of Anvanda. There is no outfit this bag doesn't go with.
You'll Be Amazed How Much of Your Stuff Can Fit Into This Backpack
After getting a mini Anvanda, you'll never catch yourself b*tchin' about not enough space. You'll get a feeling you've actually bought one of those freaky Mary Poppins bags.
Moreover, so your new bag doesn't look like a beautiful mess, we decided to design numerous pockets for all the things you need on a daily basis - from boring work stuff to spare clothes for the morning after. With the help of a silver-infused antibacterial liner, you can even store your dirty clothes from the night before until you get to your home - not leave a souvenir for a lucky guy (or girl).
Because we are that awesome, we also designed a hidden pocket. If you have something you don't want others to find, not only are we not going to judge, but we will make it easier for you to hide it. Just keep a good girl pretense going on - we will keep your secret 😉. 
Transformers, Roll Out!
What if we told you this super cool backpack could be more than a backpack? Thanks to two additional straps (not that kind of straps, you dirty girl 😄), this bag got kind of a Digivolution thing going on. The cute backpack becomes a shoulder bag, becomes a tote, becomes a messenger bag - you catch the drift.
When you think about it, buying just one mini Anvanda backpack, you'll actually get several different bags. Pretty good deal, right? We worked hard to make a bag that can fit literally every woman on this planet - and we succeeded in it, no doubt. Even a Karen would agree.
Anvanda Bag Is a Lot More Than Just a New Stylish Accessory
So, we've already established that you'll look f*cking sexy when carrying an Anvanda backpack - but we know women need more than just another cute backpack. That is why we decided to put our brains into making a bag that is not only beautiful but functional - and that's what makes a mini Anvanda the best small backpack for women.
We would never be satisfied with a half-assed job - and it apso-f*cking-lutely shows. Unless you don't own any other Anvanda bag, chances are you haven't met the freaking fantastic features this backpack has. Check out the following:
RFID Pocket and Ykk zippers - they will protect you from all the fuckers who want to steal from you by scanning your personal information or by using the old-fashion pickpocketing way. Add an Anvanda leather wallet into the mix and make sure you're entirely safe, wherever you are
Tablet sleeve - when you realize that there is no better backpack for work, you'll be glad that it has a sleeve that can fit most tablets and keep them protected.
Detachable key-ring loop - for all those who live with heads between the clouds and would lose their heads if it wasn't attached to their shoulders.
Padded straps - yes, girls sweat - they just don't want anyone to notice. Anvanda will help you with that! We made our straps in a way that allows your skin to breathe, so you can kiss sweat marks goodbye.
With Mini Anvanda, Don't Be Afraid of Getting Wet
Mini Anvanda is suitable for all kinds of weather, including rain and snow, which makes it an excellent backpack for travel. It's made of waxed canvas, which is stain and water-resistant. However, we added a little extra protection in the form of a raincoat - for the bag, silly, not for you. You can get wet as much as you want (no pun intended), but your Anvanda bag will stay dry.
When You're Looking For Bigger, Check the Rest of Anvanda's Collection
Sometimes a girl just needs bigger, and yes, we are still talking about bags. If you're satisfied with our mini, you'll be more than happy with our medium and large backpacks. Think you can't pull off a big backpack and still look cool? Look at our Anvanda, a Great F*cking Bag collection, and you'll instantly change your mind.
These colorful bags also come with an additional feature - a USB port that can help you charge your electronics on the go or simply listen to music both hands-free. How awesome is that? What you'll do with these free hands is entirely up to you.
Anvandas Are F*cking Awesome - Whether You Want a Big or Small Backpack for Women
So, what are you waiting for? There's nothing stopping you from ordering your new fancy-ass and stylish Anvanda backpack (or several of them). It's not about us making money (well, not entirely) - whichever Anvanda bag you choose, we guarantee you'll make great use of it while looking amazing. It will become your new favorite bag - it's not a predicament but a fact. And if you're ready to explore some more and make one of the best decisions of your life, head to our Kickstarter and order a f*cking fabulous V2 bag.
---