How to Carry the Camouflage Bag to Work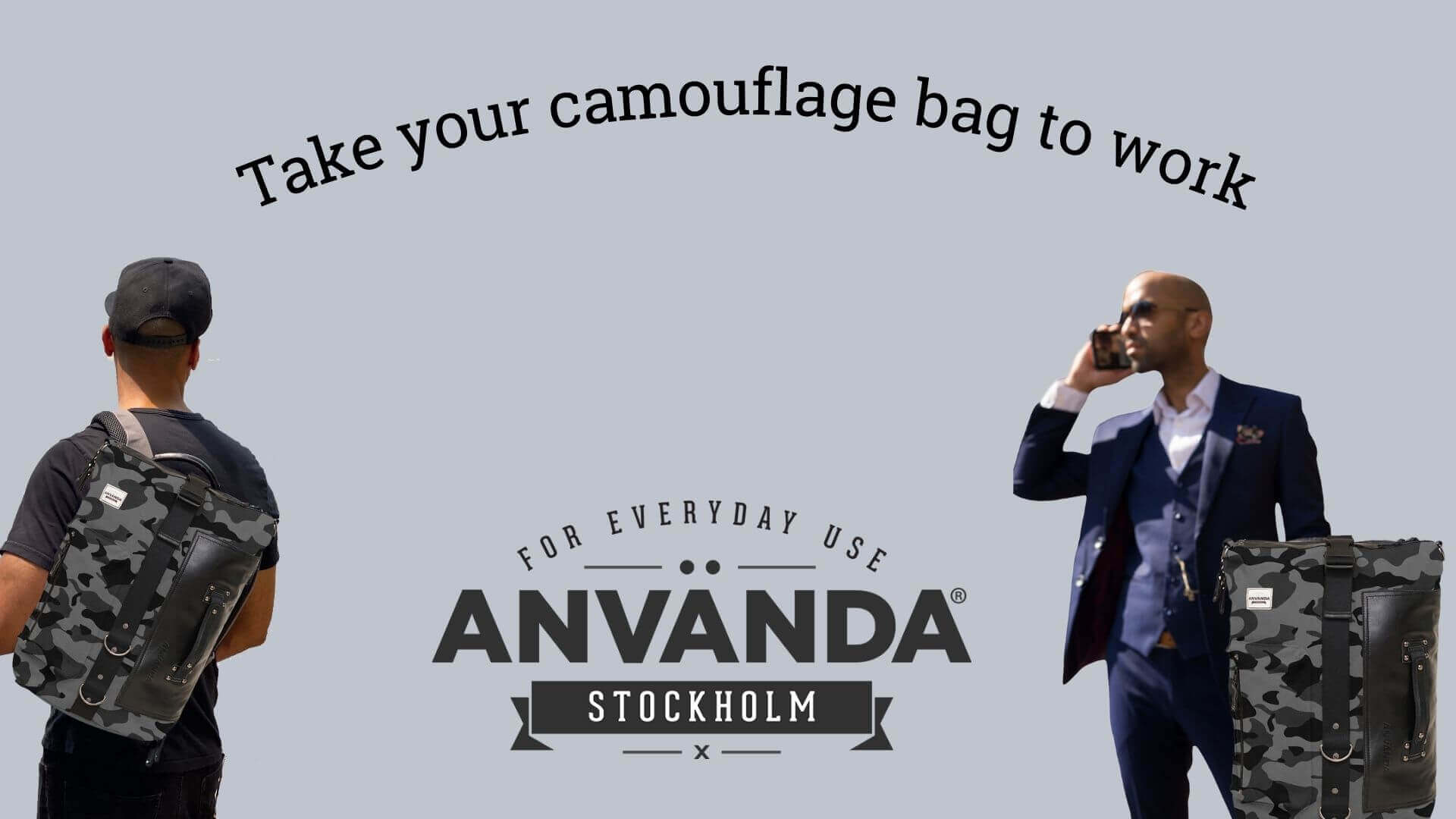 To grab or not to grab a brand new Anvanda with a camo pattern is not even a question. Of course, you need one because each Anvanda is way cooler than any other freakin' bag out there. But how to carry a camouflage bag to work and not feel like you're going on a camping trip? Oh, that one's easy - Anvanda is awesome in all patterns, but you can style it differently.
No one likes to talk about work, well, hey! No one likes doing it, either. But since you're not a billionaire (yet!), you have to do the labour thingy to get you through the month. A camouflage Anvanda can do anything for you, even get you through your workweek. It's more than a bag - it's a statement. A camo version will most certainly send out a clear message: that you're a dope individual, that you've got your sh*t together, and that no one can f*ck with you.
So, you're looking for the best backpack for work, eh? It shouldn't surprise you that you've ended up here with us; we know the struggle of carrying too much sh*t around. And it usually takes a bunch of bags to pack it all up. But we've been listening closely and came up with a bag that absolutely fulfills all your wet dreams (don't be shy, we know you have them).
How to Carry Camouflage Bag to Work and Be Ready For Anything
Our camos are perfect for any work environment. Friendly? You can sneak in some drinks and snacks and share them with your colleagues. There's a pocket with a silver lining where you can pack any type of food (or smelly socks 😬 we don't judge), and no one will ever know just by the smell of it. Is your environment unfriendly and toxic? We've got you covered because our bags have so many pockets secured with high-quality YKK zippers that you can hide a slingshot and some ammo to shoot your boss whenever you feel like it.
Master the Art of Being Cool as F*ck With Our Camouflage Bags
You think that a mere backpack can't make you cooler? Well, we can tell that you haven't had an Anvanda yet (or it didn't have you, it does have a personality of its own). Of all the types of bags out there, our gem is the most versatile of all because it can carry all your junk and still remain classy. It has a laptop sleeve so you can work on the go, too. Or stream Grey's Anatomy, watching that show counts as work, too; it has 18 seasons. 😱
It's Purrrrrrfect for Long Commutes
All your junk can fit into a camo Anvanda, we kid you not, and it makes it the best backpack for travel. Your favourite books, an enviable FunkoPop collection, smartphone, chargers, that file you should have turned in to your boss a week ago, but it sorta got lost in the void… Yep, EVERYTHING fits in our bags. And on top of it, you'll carry all that junk with style and sas. Your cat's gonna love it, too!
Anvandanites Can Charge Their Sh*t on the Go
We know you already like what you're hearing, but let us introduce the new Anvanda bag that will blow your f*cking mind. You can grab it by not one but two handles because there's one on the top and one on the side. Try it and see that it fits perfectly in your hand (TWSS!) 😁 It also has a handy-dandy USB connection to charge all your electronic devices. Yep, we can see that this is the exact moment that you fell in love with our Anvanda Great Frakkin Bag, so make sure you get one for your friend, too. That way, they can carry their own sh*t, so you won't have to.
An Anvanda Has Safety Layers
We have a perfect solution for your money (besides pouring some nickels over to our Kickstarter), and it's our chic leather wallet. It makes you look quite stylish. But we also have something to keep your digital money safe - an RFID-protected pocket where you can place your wallet and all your cards so they can be secured from modern-day muggers.
There are many hidden pockets on our bags, too. In fact, there are so many that you might even end up losing your stuff in there, hee, hee! A magnetic top pocket is a great place to store trinkets and togs, and a magnetic bottle holder is for bottles. Or toys in the shape of a bottle, 'aight?
Before You Get To Work, Make Sure Your Anvanda Is Armed and Ready
Before you get yourself our awesome bag, make sure you're certain that you need only one. But let us tell you right away, it would be a shame to get our bag only in a camouflage pattern because you'll need at least one other in monochromatic colour. In the end, what to carry in a backpack as sassy looking as an Anvanda is up to you, and however you wear it, it will make you look like a classy motherflunker.
Kickstarter link -
Använda V2 | Another Great F*cking Bag
---