How to Style Your Black Anvanda Bag?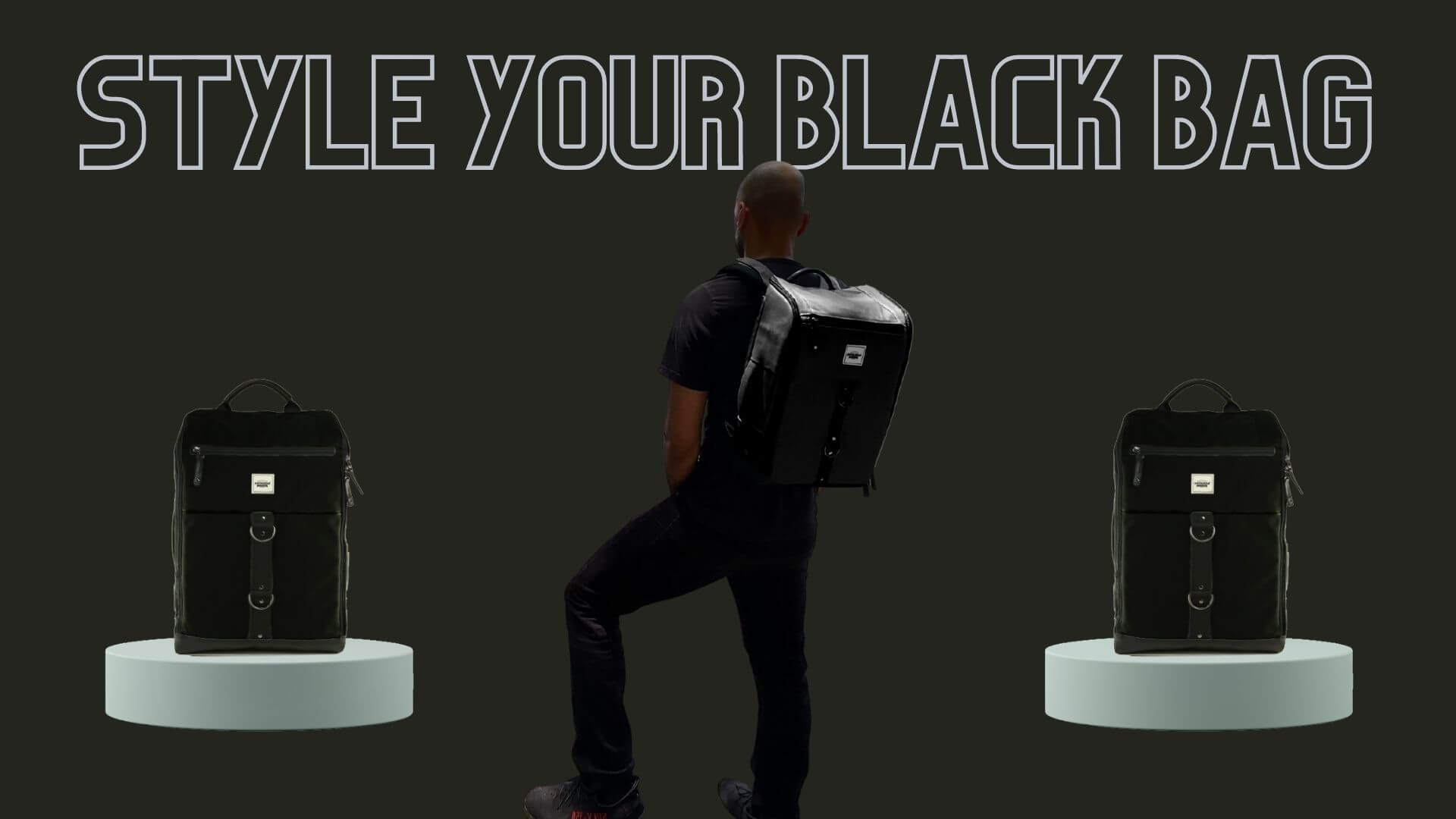 Like a little black dress, at least one black bag is every person's necessity - and you don't get any better than Anvanda's black beauty. But do you know how to style a black bag? There are countless possibilities, but we came up with few that will make heads turn, no matter where you are. If you like the bag to match the color of your soul, let us show you how to style it depending on the occasion.
The thing is, the black Anvanda bag is not only elegant and beautiful but is also an all-in-one type of bag that can carry all of your shit. The best part is that it can transform to suit any outfit you have in mind - all you have to do is decide how to carry it. No, we don't practice magic (officially) but have a fantastic design team that makes it all possible. Here is what we are talking about.
Be Professional and Stylish with a Black Shoulder Bag
Power outfits such as suits and a black Anvanda bag styled as a shoulder bag are a match made in heaven - if your goal is to command the room solely with your presence. But, truthfully, it will go well with any professional outfit that comes to your mind. Combine it with some killer shoes and a stern look at anyone who dares to speak to you for some serious CEO vibes.
Anvanda Has Everything You'll Need for the Day at Work
CEO or not, the black Anvanda bag is the best backpack for work - its stylishness is just a bonus. For once, it's spacious enough to fit all of your work-related crap and then some. Some would say size doesn't matter (lies), but can a stylish black clutch be of any assistance while working? Didn't think so. Our Anvanda bag, on the other hand, will be Robin to your Batman, Watson to your Sherlock, Sam to your Frodo - you know what we mean.
Although your laptop will be nicely cushioned in our well-designed laptop sleeve, it is more than just a laptop bag. So you can charge all of your electrical devices on the go, we added a USB port to our bags. A bag that transforms into a fucking charger - that's not something you get to see every day. Still, it will allow you to use your phone while charging and be available to all your business associates at any time (or hookups - we don't judge).
A Super-Awesome Black Anvanda Backpack Will Go Best with Casual Wear
Sweaters, T-shirts, blouses and jeans - nothing special about them, right? Wrong! Paired with a great freaking Anvanda black bag, they can all be highly fashionable. Although a shoulder bag can be a good solution here as well, you'll look much cooler with a backpack - and all you need to do is rearrange a few straps! Pair it with baggy clothes if you want a Billy Elish I don't give a fuck look, a cute little sporty dress, or a school uniform - this backpack will just add to your coolness.
A Black Anvanda Backpack Is the Best Choice for Outdoor Activities
What can fit gadgets, ropes, clothes, books, and survival kits? You've guessed it - our fucking awesome black Anvanda bag! If you're one of those annoying outdoorsy types who always want to do something somewhere, just take whatever you need and stick it in (we didn't mean it like that, you dawg). With this bag, you'll not only be sassy and stylish while biking, hiking, running, or enjoying some other godforsaken activity, but un-fucking-believably comfortable as well.
The Black Andvanda Handbag Is Perfect If You're Going for a Classy Look
What color handbag goes with everything? Black, of course! If you're preparing for a girl's night out or going to a fancy restaurant with your boo, simply grab it by the handles and transform this bag into a tote. Go with monochrome outfits for the most stunning look - and be bold with the colors. Our elegant black bag will tone the look down to a perfect level and help you look full of sass and class at the same time.
Styled as a handbag, it can go marvelously with colorful and pattern-crazy summer dresses (if you wonder how to style a black bag during summer) or give even more edge to an all-black punk look. Whatever your personal style is, Anvanda, a Great Facking Bag, won't disappoint you.
What Has It Got in Its Pocketses?
While you're out, make sure you make full use of numerous pocketses. Whether we talk about phones, chargers, earphones, baby Yoda, birth crystal, toiletries, tequila, hell, even one ring to rule them all - you can find a place for everything. We also provide a:
Hidden departments for your stash (we don't ask questions),
Silver lining so your smelly stuff, such as food or clothes, don't contaminate your non-smelly stuff (hey, we are all kind of gross sometimes),
RFID-protected pocket, which you can combine with our Anvanda leather wallet, so that you can sip your previously packed tequila in peace.
How to Style a Black Bag? However You Want - Our Fucking Incredible Anvanda Bag Is Just That Versatile
The true beauty of our black bag is in its adjustability - it won't only fit any occasion, but it can infiltrate anybody's style. You can have elegant, bold, and casual all in one and combine it with literally every outfit you have in your closet.
Black is not the only color in our V1 and V2 collections - you may have gone black, but that doesn't mean you won't want to go back. If you want to introduce a new Anvanda bag to your closet, you can always show us your support on Kickstarter and become an early bird. We're waiting!💓
Kickstarter link - Använda V2 | Another Great F*cking Bag
---