Mother and Daughter Matching Bags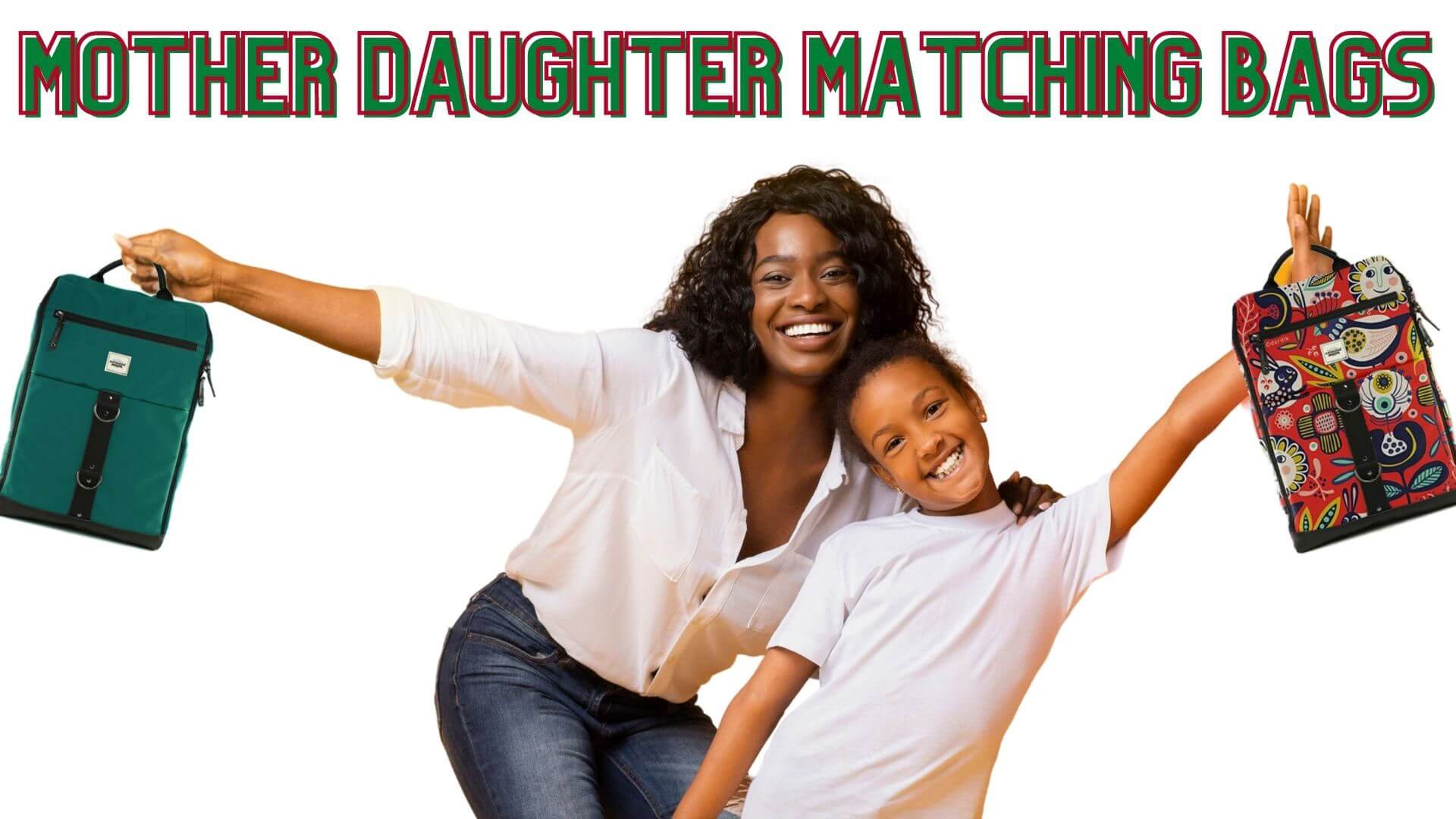 We know that all of you queens slay! But what could be more awesome than moms with swag that teach their daughters some swag? Anvanda has just what you need for that - mother and daughter matching bags that are as practical as they are elegant and cool-looking. And that's not all - our bags can carry everything, from your favorite Fenty Beauty lip stain to your little princess' Pinkie Pie. But since all our bags come in two sizes, you should get at least one for each.
Let's face the truth - the superiority of a woman in any given situation stems from the fact that they tend to carry everything with them. At all times, we can produce different schite, depending on what the emergency is. Need some tampons? Check. Spare bra? Check. Rocket launcher to aim at your bestie's ex? CHECK. And once your offspring starts growing up into a little baddie herself, she needs to get one of those carry-all magical bags, too. To only thing you should do in that case is to take the what kind of backpack should I get a quiz and figure out which matching set to get.
Mother and Daughter Matching Bags Come In Different Sizes and Colors
We have made our awesome bags in a large size, but we've also added small backpacks for women to our shop. So no matter how old your princess is, you can get one for her and an equally cool one for yourself. You can pick between an equally stunning orange bag or the eternally elegant red bag. Heck, you can even get them in multiple colors or with a pattern, and you won't be mistaken. They are cool, practical, and carry all the girly stuff (and then some more).
It's true - Anvanda, a Great F*cking Bag, is one of the cutest backpacks for women and will definitely be a huge gamechanger in your wardrobe. It can serve you equally well as the best work backpack for women or bring your elegance up a notch if you decide to go to a birthday party with your daughter. It's made of high-quality materials, so no matter how heavy the birthday present is, you can pack it inside an Anvanda and carry it safely.
Each Bag Is Made of Top-Notch Materials so that They Can Endure Work and School Equally
Each bag can be upgraded with two removable straps, long enough to turn your Anvanda into a shoulder or a messenger bag or to make a backpack out of it. These straps have quad-coated zinc hooks because no queen could ever slay with a bag that doesn't hold all her accessories inside safely. We've also added Ykk zippers that any woman out there is handy enough to connect to D-rings for extra protection. There's also a hidden pocket where you can stash some money. Or a photo of Jimin from BTS, safe from prying eyes.
We Know What Each Girl Needs in a Bag - Awesome Features!
While you browse our shop to pick the most cool shoulder bags for you and your princess, we will tell you all about the special features you get with each Anvanda. Here they are, in no particular order:
Our bags are waterproof - each bag comes with a reflective rain cover. So no matter what weather you move around in, your jewelry, notepads, sonic screwdriver, and the neuralyzer will remain dry.
You won't have to pull out heavy weaponry to fight off pickpockets - Anvanda will deter them. We've added a specialized RFID-protected pocket, so you won't have to worry about being skimmed and not having any digital funds when you enter the closest H&M store.
We know that no woman or a girl carries smelly stuff inside their bags. We don't even fart - instead, we shoot puffs of glitter sounding like a unicorn's laughter and smelling like rainbows. However, we've added an anti-bacterial silver lining on the inside, just in case you want to carry a sauerkraut pie with you.
If you want to carry a laptop with you anywhere, we've got you covered. There's an additional laptop sleeve inside our bags that can fit 13,15', or even 17' laptops. Or stash a pile of Ikea gift cards and vouchers.
If you and your princess need some charging on the go, you won't get tangled. It's a cool movie, but no Flynn Rider could untangle you from your power bank and headphone cables once they get tied into knots. To save you from such trouble, we've added a USB port.
See? We've thought of everything. All you girls have to do is to choose a backpack and order two matching ones ASAP.
And Get a Few Accessories Into the Shopping Cart, Too
We've got even more goodies for all the ladies out there! There's a chic lookin' Anvanda leather wallet in our shop, so feel free to browse and pick a color of your choice. So, why should you get an RFID wallet for women, you ask? Sure, we've added the pocket with the same level of protection into our bags, but no queen that takes pride in her own style would go around without an equally awesome wallet. And after all, the wallet can be used for the cards you want everyone to know you have, while the pocket could keep a secret or a two 😉
Get Matching Anvandas and Be the Coolest Girls Out There
There's no beating around the bush here - we've worked hard to make sure our bags can carry loads of stuff, carry it everywhere and carry it well. But we've also made sure our bags are not f'ugly. No, they are sassy, they've got swag, and they can make a girl swoon with the realization of just how awesome their features are. And we didn't stop there (because we're unstoppable), so we're working on a new Anvanda bag just to be even more amazeballs than we already are. So, pledge a coin or two to our Kickstarter campaign and watch the magic come to life, and our version 2 Anvanda become a reality.
Kickstarter link - Använda V2 | Another Great F*cking Bag
---