Can You Use Anvanda as a Swim Bag?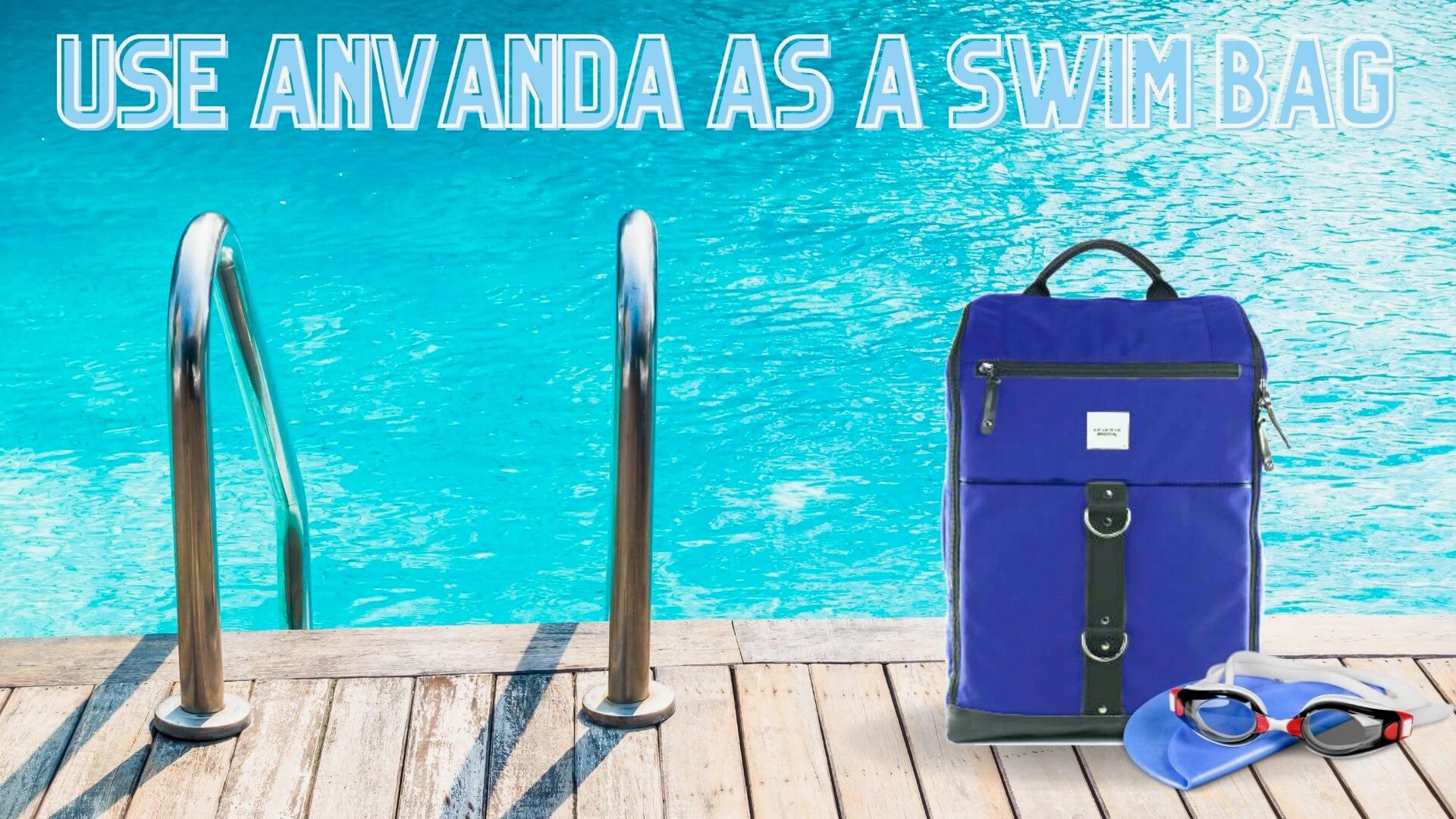 The summer's a-knockin' at our door, and you know what that means, dontcha? Yes, it's shorts, sunscreen, beaches, and cocktail time! But there's no going to the beach without a swim bag or how else do you plan to carry all the schite you'll need? If you don't own one, dontcha worry, Anvanda will give you everything you need while you're channeling your inner lizard on the sand.
So, what can you carry in a backpack as awesome and fantastic as an Anvanda? This is a superior bag, to say the least because the list of items that won't fit is really short. It can hold and carry over 10 billion different items, sunscreen, sunglasses, and an iPad included. After extensive research, we've come to a conclusion that a one-bag-to-carry-all can be made, so we've created this gem.
Our Waterproof Swim Bag Will Take You Places
Anvanda, a Great F*cking Bag is loaded with pockets, but there's no designated pocket to hold some specific schite - just take the bag and organize it however the hell you want. There's enough room for loads of sunscreen, some energy drinks (you're supposed to party all night and visit the beach, so there you have it,) and a spare bathing suit. You won't even have to carry another bag for your smelly shirt - because each of our bags has a SanitizeMi® antibacterial silver lining. It means that no one else is going to notice that you've stuffed your smelly junk inside your stylish backpack, so no one can judge you.
Anvanda is the right choice for the beach because it's also the best backpack for travel. You can take it literally anywhere and pack all your essentials inside. Like some alcohol (for disinfecting, of course, 😉) and a spare tire that can come in handy if you don't know how to swim, lol. You can also use Anvanda for the beach because it's a water-resistant backpack - you can find the reflective rain cover at the bottom of each bag. It doesn't mean you can use it for scuba diving (swimming bags don't mean underwater bags,) but it can endure any other sh*tstorm that comes your way.
Our Swim Backpack Has Some Sexy Features Fit for a Beach, Pool, or Mountain
So, what sweet feats can be expected from an Anvanda? Here's what each of our swim bags has:
You can carry our awesome sexy bags in five different ways. Yes, FIVE. Are you saying there's no freaking way that's true? Hold that thought - you can get a hold of an additional long strap, so you can wear it as a shoulder bag or hook up the straps differently and make a backpack. You want a messenger bag? We've gotcha. You like to style it as a handbag? We've given our bags two handles for two different positions (TWSS, we know).
If you're planning to spend a day at the pool or on the beach so you're worried you might lose your keys, we've added a detachable key-ring loop so your keys won't end up forgotten in the Upside Down.
One of the best features is the laptop sleeve, where you can either pack your laptop or whatever the hell you want.
All you have to do is decide which alcohol you want to carry in your swimming pool bag. We mean, which brand of sunscreen will give you the perfect tan 😁
Anvanda Is the Best Swim Bag for a Reason
You know, nowadays, a thief doesn't have to rummage through your stuff to get your money. Yep, they have updated their skills, so all that it takes for them is to pass by your side and skim your digital money right off your card. Now, we have two options for you - either to use the ever-handy RFID-protected pocket that's included in every bag or to fall in love with the Anvanda leather wallet and add it to your cart, too. An RFID-protected pocket and wallet will allow you to relax and give the pickpockets the finger.
While you're taking the quiz to choose the color of your bag, we're gonna add some more things to the list of Anvanda's awesomeness. We're going to be painfully honest here and say that we all depend on our electronics a lot. But that's not a bad thing! How else would you watch the trends on TikTok emerge every minute? On the downside, all our gadgets need battery power, so we need to charge on the go. Especially if you're drinking cocktails by a pool. To avoid tangling your cables into a mess, our bags have a USB port, along with a 3.5mm audio port, so you can keep your charger and earphone cables untangled.
You Can Use an Anvanda as a Swim Bag, but It's Also So Much More
And now you understand that an Anvanda is not only great as a swim bag, it's a Great F*cking Bag that does it all. It looks super cool or totally sassy, depending on how you style it with your outfit. It carries all kinds of junk inside, from food to board games, and it does it with a lot of style. It protects you from the rain, fends off thieves, and charges your gadgets on the go. It's almost a bag with superpowers. You can take a peek at our shop and see that we also have some Anvanda Great F*cking Bag bundles at an awesome price. But why stop there - while you're at it, throw a dime to our Kickstarter and help us make an even better Anvanda, that's sexy as f*ck.
Kickstarter link - Använda V2 | Another Great F*cking Bag
---