What Makes Anvanda The Best Work Backpack for Women?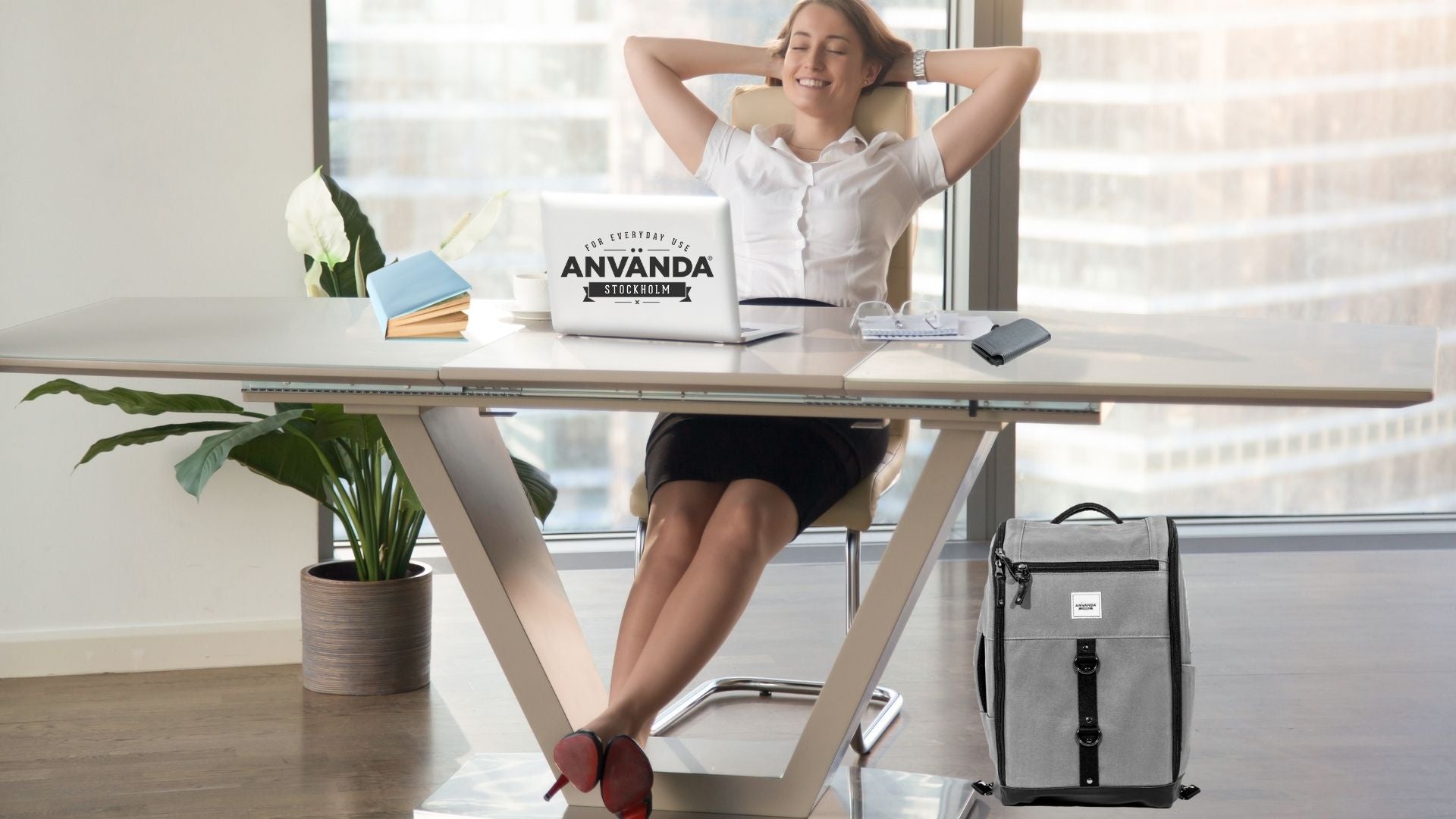 Mel Gibson thought he cracked the code in the movie "What Women Want," but if he could've given Helen Hunt an Anvanda backpack, that movie would have been much shorter and different. Learn what makes our Great F*cking Bag the best work backpack for women and a fulfiller of dreams here.
The Best Work Backpack for Women, Anvanda, Is Primarily Functional
When we made the Great F*cking Bag, we wanted it to be stylish yet have everything a working person or a traveler might need. Anyone whose motto is "All that is mine I carry with me" understands the importance of a multifaceted backpack.
With each design and redesign, we had eureka moments that led to adding more pockets, hooks, plugs, and straps. We're not talking about the backpack anymore, though; our colleague was just remodeling his apartment a couple of years ago. We don't talk about that anymore.
Our Great F*cking Bag is an
excellent work backpack for women because it combines elegance with functionality
. If you're somewhat elegant and function reasonably well on a daily basis, this bag is a match made in heaven for you.
It Can Be a Bag, a Purse, a Backpack, Whatever You Want It to Be
Get this - you can carry the Great F*cking Bag in FIVE (5) different ways. Unlike regular backpacks that can only be carried one way, which is so f*cking boring and old news. Get a life, regular backpacks!
We've attached two removable straps so that you can wear the bag on your back like an average person. You can shift the strap to the top and carry it like a grocery bag, a choice we were willing to give you. There are hooks on its side, so it can be held like a weird briefcase. It can also look like a mailman's bag, which instills confidence, or become a crossbody bag and make you wish you just wore it on your back.
You choose the suffering method because the Great F*cking Bag is supportive of your choices and decisions. Apart from being a great bag, it's also a great friend, and it can hide you from bad guys if you decide to rock the camo version.
Your Pants May Not Have Pockets This Deep (or At All,) so the Anvanda Backpack Compensates for That
The Great F*cking Bag does indeed have multiple pockets, rather than being one big one. Women love sh*t with pockets and always complain how their pants don't have any. We continuously wonder how the f*ck that's possible, but once in a while, we stop wondering and start making something worthwhile for every woman to enjoy. Hehe.
Our Great F*cking Bag has numerous pockets inside and out, with a hidden one for your secret stash (we know you steal staplers from the office, Stacy). There's also a laptop sleeve to carry 13-inch, 15-inch, and 17-inch laptops. Just don't carry all three at once; that's stupid.
We know you're a busy woman, but don't overwork yourself, and while our bag can carry so much stuff, your back can be the real victim here. You really have to learn how to carry a shoulder bag and avoid back pain.
As a Working Woman Sporting the Anvanda Backpack, You Can Easily Take Your Job With You
Did you know that the most common Google search is "backpack for work women"? Us, neither. That's also probably not true, but we get asked a lot if our bag is the right stuff for working women, and our answer is always - heck yeah.
As mentioned before (hopefully, you were paying attention,) our bag has a laptop sleeve that can fit most sizes. Hehe. But, there are also compartments and pockets that will keep your cards and data from getting stolen, as they're RFID protected. Imagine someone having the nerve to scan your sh*t while it's in the bag. You'll just laugh in their faces and walk away.
Charge Your Phone and Laptop on the Go
Check this out - the Great F*cking Bag has a f*cking charging port. Whaaaaat?! (Look surprised, Stacy. Please.)
Yeah, there are USB plugs in the bag, and you can take your sh*t with you and charge it like a maniac anywhere you find yourself. People might think you've gone completely mad for plugging a USB cable into your classy women's work backpack, but a true queen doesn't bother with the opinions of plebs.
It's Also Elegant and Stylish, Fit for Multiple Occasions
Elegant, classy, stylish, and fashionable. That's what my friends say about me and what I call the Great F*cking Bag by Anvanda. There are so many color combinations and patterns to choose from that it'd be hard to pick just one bag (buy two, whatever, I don't care).
The Great F*cking Bag V2 comes in even more saucy and adorable patterns, so you can let your imagination run wild and pick the girliest bag, or go with the classics and get it in black. It has more range than Meryl Streep and a higher rating than The Shawshank Redemption.
Anvanda Has the Best of Both Worlds, and It's the Best Work Backpack for Women
It's hard to find a bag that fulfills every need a person could have, or at least it was until the Anvanda Great F*cking Bag was made. Now, presented before you is the result of a masterclass in bagging (is that the word?) It is multifaceted, practical, protective, and made from vegan leather, meaning it's eco-friendly.
Visit our store and check out the varieties, colors, and other shit we have. Maybe you need a wallet? No problem. It can be paired well with our bags and goes well with everything you wear. That's a promise, not a guess.
---