Father and Son Matching Bags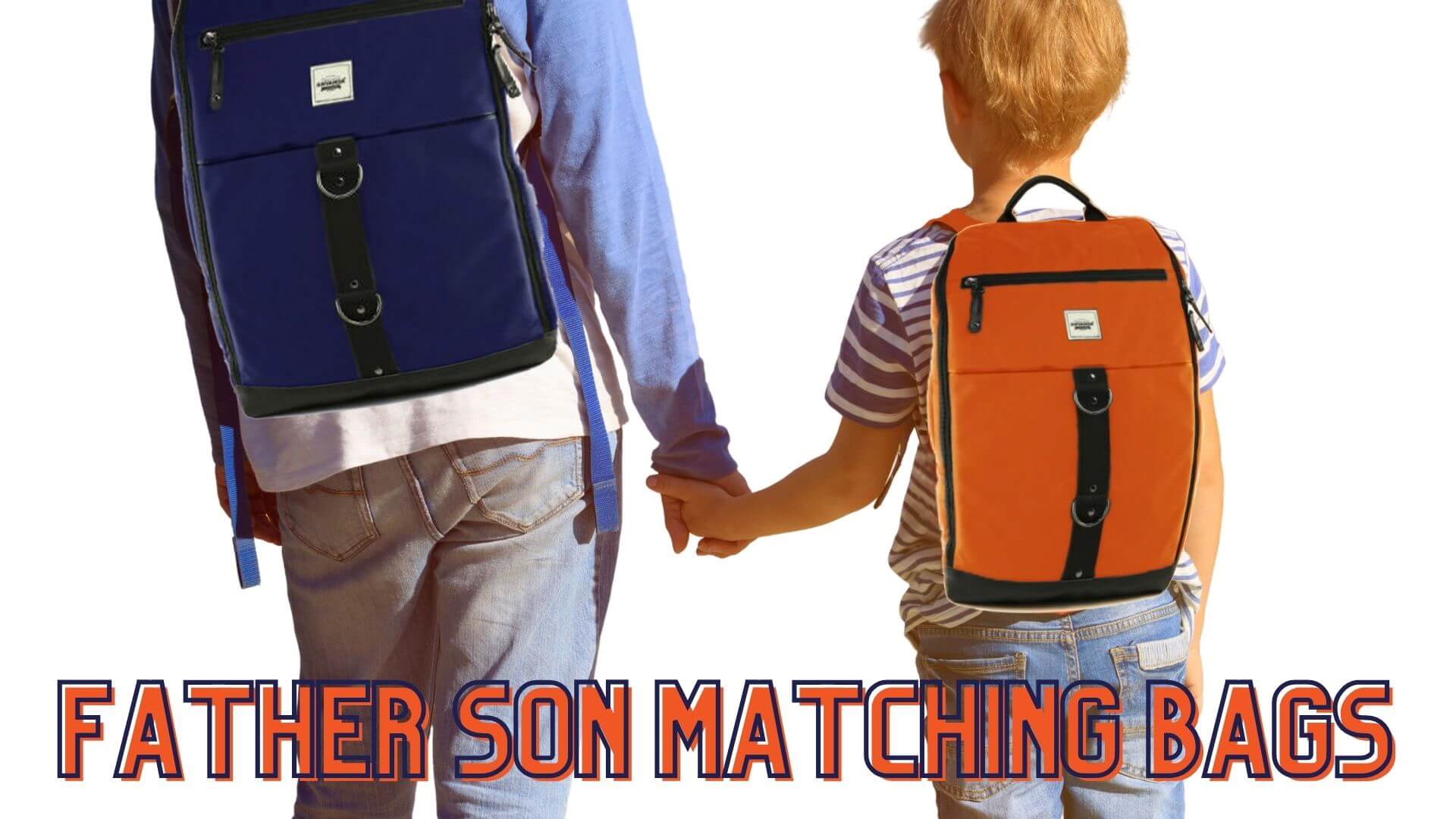 Attention all Anvandanites! We know how different generations might not get along very well - whether you're a Gen X or an older Millennial, your kids are gonna throw an occasional "OK, boomer" your way. But if you want to overcome this image, get father and son matching bags. If you think your boy is going to cringe when he hears it, wait 'till you show him that it's actually an Anvanda!
If you enjoy camping with your boy - we've got you covered. Want to go for some outdoor exploring? Don't worry, you can choose a backpacking pack in our shop. And the color choices are a-plenty, so you can pick the gray bag or go with the classic and get two of the black versions. But let us tell you why you should both get your own Anvandas - and it's not only the fact that they make you look way cooler than you are 😎
Father and Son Matching Bags Come With Awesome Features
Our Anvanda, a Great F*cking Bag, will make you - a Boomer - look infinitely younger, and your son will get an equivalent of a manly mustache. But that's not all, so brace yourself for all the awesomeness you get with each bag:
Quad coated zinc hooks because we don't do anything half-assed, so we're not gonna go with double coated ones. Like, never.
Ykk zippers that you can connect to D-strings for extra anti-theft security.
Two long straps, removable, so you can both wear it however the fauk you want. We're not asswits, so we're not gonna insult you by making you wear it only one way.
You want to stash a few bars of Snickers for you and your son, so your wife won't nag you to death about bad sugars? Hidden pockets are literally EVERYWHERE.
With our bags, you won't look like a preteen with a backpack. Anvanda has given you an aura of manliness since 2018. Mustache not included.
You Can Both Wear an Anvanda in Five Different Ways, and It's Bloody Awesome
Once you get ahold of our awesome bags, you will realize that there are more than one ways to carry our backpack. In fact, you can wear it in five different ways. We've added two grips (on top and one side), so you can carry it in your hand any way that feels comfortable enough. Add a long detachable strap that comes with our hook system and make a classy shoulder bag or a messenger bag, whichever you like more. And in the end, our straps can be arranged, so you get a more than an awesome backpack fit for walks, hiking, camping, or school.
But Why Stop There? Here's How an Anvanda Can Make You Both Superheroes
Have you ever had an awesome idea about a camping trip where you and your son can make a tent, share some scary stories around the campfire and go fishing? But then the weather forecast gets the predictions wrong, and you're caught in the middle of a downpour? Well, an Anvanda can't make a campfire instead of you, but it can keep your stuff dry. It's simply because this is a water-resistant backpack, and it's only one of the cool things our bags can brag about. With a reflective rain cover located at the bottom of the bag, you'll be safe from wet weather. Hell, you can even stand in the middle of a hurricane, and your stuff will live. We can't vouch for you, though.
An Anvanda Can Take Care of You Even When You Forget the Simplest Things
Although being forgetful isn't really a superpower (although Dorry from Finding Nemo would argue that point,) our bags have got your back. We've added a detachable key ring loop, so you can keep your keys on you at all times without fear of losing them. We've also included a laptop sleeve, so you don't forget your work on weekends. Or scratch that - so you don't forget to stream your favorite Netflix show while you're out in the wilderness.
Did you also forget to bring an additional bag for your smelly clothes? Don't you worry - our bags have a silver lining on the inside. And it's not just a phrase - we've literally added an anti-bacterial silver lining, so it keeps all the smelly smells locked away for good. Until you remember to take that sweaty schite out of the bag and throw it into the laundry basket.
Anvanda Helps You Recharge on the Run
There is another reason why we can claim that Anvanda is the best backpack for travel, and it's the fact that it won't allow you to get tangled inside of cable hell. Since most of us use phones all the time (Boomers included,) we need to recharge the battery on the go. And if you add your headphone cables into the mix, it won't be a pretty sight. Not to mention you can get hurt if you get stuck in a branch and there's a bear running after you. Because it wants to stream the latest season of Lucifer with you, right? That's why we've added a USB connection and a 3.5mm one, just to keep you safe.
It Comes With an Armor Against Thieves
Well, not exactly an armor, but we've added an RFID-protected pocket. Modern problems require modern solutions - these days, thieves don't need to poach and pickpocket. They simply pass by you on the street and skim your digital funds with ease. But if you keep your cards in this specialized pocket or an RFID-protected Anvanda leather wallet, you're good to go. RFID wallets for men are a nice addition to your growing Anvanda collection, though.
Don't Be a Lazy Panda, and Get Yourself an Anvanda
Yes, we know that our bags are a-f*cking-mazing - they are the best backpacks for work and an all-around greatest bag to rule all bags. On top of everything else, this is a magical bag, and you and your son can stuff and carry a ton of junk around in them. But before you order only two, stop and let us introduce the new Anvanda bag, a new way to carry all your schite. After our version 1 reached the status of the most crowdfunded bag of all time, we've decided to add an even more awesome version to our project table. So make sure you also visit our Kickstarter to check out what we're preparing and pledge a coin - after all, Khajiit has wares if you have coin 😻
Kickstarter link - Använda V2 | Another Great F*cking Bag
---